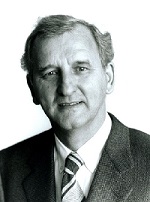 In Memory of Christoph E. Broelsch
In Memory of Christoph E. Broelsch
Christoph Broelsch has been very important for the E-AHPBA. Together with Basil Kekis, Spyros Skaltsas, Dirk Gouma and others he founded the association in 1999. He was President of the Association between 2001 and 2003.
Professor Broelsch played a crucial pioneering role in segmental liver transplantation with Rudolf Pichlmayr, and introduced living donor liver transplantation in the Western world. He was known for his creative and often revolutionary ideas and for bringing surgery at the borders of feasibility. In this context, he was always aware of the fact that you could only achieve innovation if you worked as a team. Indeed he always recognized the contribution of all colleagues in his team whenever he gave a presentation at meetings.
His courage and his strong spirit of innovation are still alive in many lead surgeons worldwide who continue to pursue ground breaking surgery following his teachings and example.
It is with gratitude that we remember our colleague and friend.