The Official Journal of the International Hepato-Pancreato-Biliary Association (IHPBA), American Hepato-Pancreato-Biliary Association (AHPBA), Asia-Pacific Hepato-Pancreato-Biliary Association (A-PHPBA) and European-African Hepato-Pancreato-Biliary Association (E-AHPBA)
Aims and Scope
HPB is a well-established, an international forum for clinical, scientific and educational communication with an impact factor of 3.842 as of 2022. The journal has risen in importance in the last few years and is now considered the pre-eminent HPB journal in the world.
In twelve issues during the year, HPB features expert reviews, original articles, images, editorials, virtual journal clubs and reader correspondence focusing on all aspects of benign and malignant hepatobiliary diseases and disease management. HPB also features relevant aspects of clinical and translational research and practice. Manuscripts resulting from key presentations at regional and international congresses are also published.
Specific areas of interest include HPB diseases in the specialist field of gastrointestinal surgery, and the journal also addresses challenges faced in the management of cancers involving the liver, biliary system and pancreas. While surgical oncology represents a large part of HPB practice, submission of manuscripts relating to liver and pancreas transplantation, the treatment of benign conditions such as acute and chronic pancreatitis, and conditions relating to hepatobiliary infection and inflammation are also welcomed. There is a focus on developing a multidisciplinary approach to diagnosis and treatment with endoscopic and laparoscopic approaches, radiological interventions and surgical techniques – all strongly represented in the publication.
HPB aims to help its readers – surgeons, physicians, radiologists and basic scientists – to develop their knowledge and practice. This key publication is of particular importance to specialists involved in the management of hepatobiliary and pancreatic disease, but also informs those working in related fields.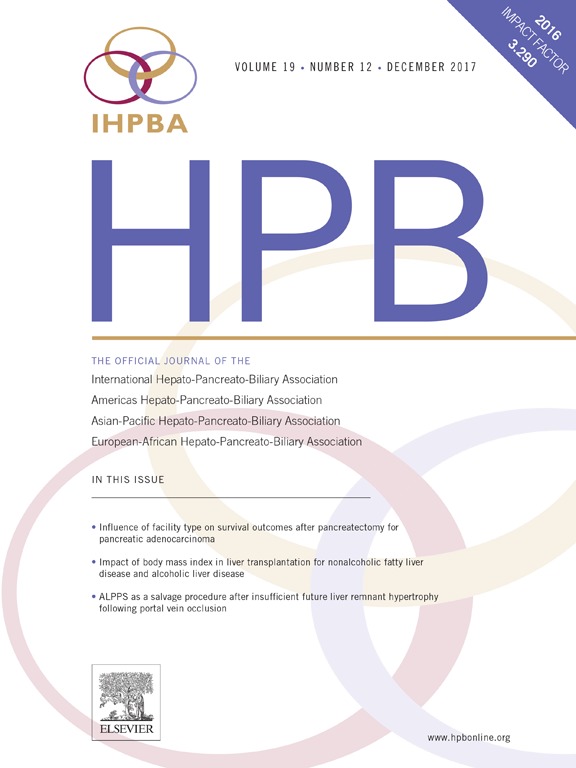 All active E-AHPBA members will receive the HPB Journal. As part of your membership to the E-AHPBA you are entitled to online access to HPB through Wiley Online Library. To access, please contact Sharon Brooker at sbrooker@wiley.co.