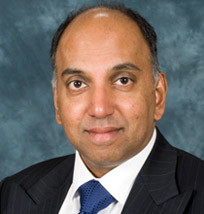 New E-AHPBA President – Professor Ajith Siriwardena
Dear Colleagues
I thank you all for your membership of E-AHPBA and truly appreciate the honour of serving you as your President.
First, let me thank Professor Kevin Conlon and the E-AHPBA executive and council for their outstanding work in keeping E-AHPBA going during the pandemic.
Then, we would all like to acknowledge the exceptional work of the Bilbao team led by Professor Andres Valdivieso and that of Marc Besselink and colleagues in assembling an outstanding programme. We would have loved to have been in Spain, but E-AHPBA 2021 Bilbao has earnt its place alongside our great congresses.
I found the presentation format of the congress easy to navigate, the content outstanding and I learnt a great deal. Personal highlights for me were Daniel Casanova's memorable Bismuth lecture on the importance of training in HPB, Åsmund Fretland's thoughtful presentation on treatment of liver metastases from colorectal cancer and Olivier Soubrane's masterly video of laparoscopic right hepatectomy (if you do laparoscopic liver surgery you must see this).
E-AHPBA's "best of the best" session was also truly outstanding and in keeping with our focus on new data contained practice changing talks which are well worth seeing including the long-term results of the PREOPANC study on neoadjuvant chemotherapy for resectable/borderline resectable pancreatic cancer, the first formal outing for the ORANGE II study of laparoscopic versus open hepatectomy and a major study comparing methods of organ preservation for liver transplantation (with significant findings in terms of future trial design).
The content of the programme is currently available on E-AHPBA's website – if you missed the meeting, this is a great opportunity for you to catch up on important content.
Looking forwards, we have a comprehensive program of webinars to keep you updated and informed and together with our new council and committees we will be communicating with you regularly through our newsletter. Mustapha Adham and his team are also working hard to prepare an outstanding congress for E-AHPBA 2023 and I look forward to meeting you in person in Lyon.
Ajith Siriwardena
President
E-AHPBA