Upcoming E-AHPBA and IHPBA Congresses
13th Biennial Congress of the E-AHPBA
2nd – 5th June 2019, Amsterdam, The Netherlands

IMPORTANT DATES:
28 February 2019 – Early Registration Deadline
2-5 June 2019 – E-AHPBA 2019 Congress, Amsterdam
Click here to view the provisional scientific programme
Click here to register for the Congress
14th World Congress of the IHPBA
21 – 24 September 2020, Melbourne, Australia
Previous E-AHPBA and IHPBA Congresses
IHPBA World Congress 2018
The presentations and photographs from the 2018 IHPBA World Congress in Geneva are now available. Members can view the full library on myHPB. There are also a selection of videos which are free to view on our featured content page.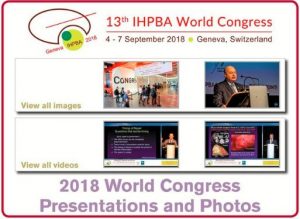 E-AHPBA 2023 Congress Bidding Information Now Available:
We are delighted to announce that the bid process for the E-AHPBA 2023 Biennial Congress is now available.
For more information regarding submitting a bid to host the E-AHPBA Biennial Congress including important deadlines please download the E-AHPBA 2023 Bid Manual and Congress Procedures and E-AHPBA Biennial Congress Budget Template.
The deadline for applications is Friday 1st March 2019.
We look forward to receiving potential bids and should you have any questions please do not hesitate to contact us via carol@eahpba.org.