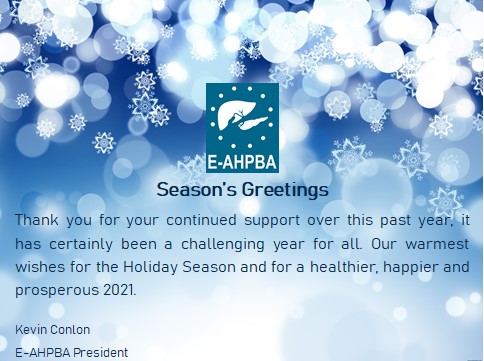 Festive News Bulletin 2020
Message from Professor K Conlon – E-AHPBA President
Dear Colleagues and friends
On behalf of all of us in E-AHPBA, it is my pleasure to wish you and your family a happy holiday season and a healthy, safe and prosperous New Year.
It has been a demanding year for all of us.  This time last year, no one could have anticipated the challenges that we have had to face since the spring.  Things that we took for granted in our personal and professional life have been upset by the pandemic. As I contemplate the past year, I am in awe of the resilience shown by members of this Association. You can be proud that all have continued to deliver exceptional care to patients in such difficult circumstances.
Even with the pandemic causing so many setbacks, our goals have been ambitious, our challenges varied and interesting. We have pivoted our education programmes to an on-line platform with a successful Webinar and Gold Course Program. Your Council and Committees remain active with regular Zoom meetings.  I remain confident that despite any challenges we might face in 2021, we will continue to offer the highest quality education to our members via our courses, webinars and at our Congress in Bilbao. We will also continue to develop and endorse research projects, studies and meetings and continue to engage with innovative technology areas and share this with our members.
As always, thank you for your support over this past year and as we look forward to 2021, let us all be grateful for our many blessings, and hopeful for the year to come.
Take care and stay safe.
Kevin Conlon
President, E-AHPBA
E-AHPBA 2021 Update
Preparations for E-AHPBA 2021 (15-17 September 2021) are well underway. The theme of the meeting will be 'Focus on Innovation'.  The meeting will be shorter than a normal meeting to facilitate a 'hybrid' model wherein surgeons can both attend 'live' but also 'online'. A large group of HPB surgeons including the Program committee, Local organizing committee, 'Women in HPB surgery', and Council has prepared a wonderful program, including novelties as the "HPB Champignons League" for practice-changing trials published since the last EAHPBA meeting but also interesting Debates, Updates and the 'Best of the Best' abstract session.
Upcoming Events 2021
We are delighted to advise that we have more webinars and courses planned for 2021, including 2 webinars on liver at the end of January:
Multi-disciplinary treatment of Hepatocellular carcinoma (HCC)
Multi-disciplinary treatment of colorectal liver Metastases
We have wonderful speakers lined up for these and we very much look forward to engaging with you once again in our live Q&A Sessions. Registration for the webinars will open in the coming weeks.
We will also be relaunching our programme of Gold Seal Post Graduate Courses, these will include a course in Zurich on Liver, a course in London focussing on the pancreas and a further course on the day prior to the E-AHPBA 2021 Congress in Bilbao. More information on these courses will be shared with our members in due course.
Update E-MIPS: Registry & LEARNBOT
The E-MIPS registry is the European quality registry for minimally invasive pancreatic surgery, endorsed by the E-AHPBA. Currently, over 1200 patients have been included from 66 centres in 19 countries. Interested centres are invited to join via www.e-mips.com. Every centre receives an annual report showing their own centre data in relation the other (anonymous) centres. Every centre has continuous online access to the own data.
LEARNBOT is the European training program for high-volume centres who want to start with robotic pancreatoduodenectomy, endorsed by the E-AHPBA. Interested centres are invited to join via www.e-mips.com. The program is based on the Pittsburgh approach and includes video-, simulator-, and biotissue-training and live proctoring.
Once again, we wish you and your family a most wonderful holiday season and here is to 2021!